Well folks, the 88th Academy Awards are upon us: an evening dampened somewhat by controversy and expectation. #OscarsSoWhite made its second appearance in as many years, rearing its ugly head on the twittersphere and beyond, sparking opinion pieces and boycotts. You can read what I had to say on the matter here.
But as the night has drawn closer the issue has quietened down and eyes have gradually been shifting their gaze to Chris Rock and Leonardo DiCaprio. With #OscarsSoWhite throwing up so many sensitive topics one can only speculate on what jokes and comments might touch a nerve but I trust Rock to handle the situation with care and a joviality that lightens a fairly tense affair without pushing too many buttons. Although I kinda hope he just goes for the jugular.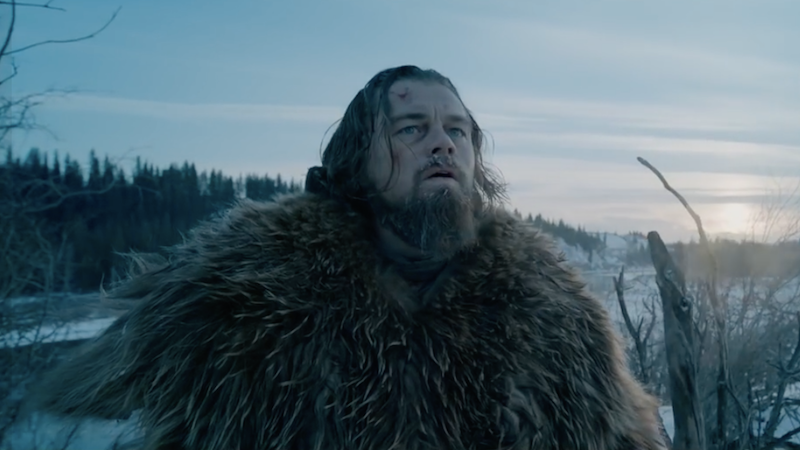 As for Leo, he may as well stand alone in the Best Actor category this year with some very average performances from his colleagues and competitors. Even without the hype and his  Oscar history playing in his favour his performance in The Revenant must surely land him that all elusive golden statue.
As for the rest of the categories I've taken the liberty of breaking down the nominees and thrown in my two cents on who Oscar believes will win and who I want to win.
Best Picture
Bridge of Spies
The Big Short
Mad Max: Fury Road
The Revenant
Spotlight
The Martian
Room
Brooklyn
With The Big Short's shock PGA win, ironically a lot of people have their money on Adam McKay's unconventional semi-biographical account of the 2007 global recession to take home the highly coveted Best Picture, likewise Oscar. But there are two films that really raised the game this year, two films that stand out as the proverbial wheat from the fairly generic Oscar bait chaff. The Revenant is an exceptional case study for exactitude in extreme film making. The other is Mad Max: Fury Road for such a ferocious gasoline spitting return to the big screen for George Miller and both, although very different films, stand out as frontrunners for Best Picture. Needless to say my bum is getting a little sore atop this fence.
Best Director
Adam McKay – The Big Short
George Miller – Mad Max: Fury Road
Lenny Abrahamson – Room
Alejandro González Iñárritu – The Revenant
Tom McCarthy – Spotlight
I'm sure Adam McKay feels flattered for his nomination, sure The Big Short was different, well acted and innovative in its humourous retelling of a depressingly serious subject but was the directing actually that good? Abrahamson's Room was fantastic and although the picture as a whole left a lot of unanswered questions the directing was brilliant. Oscar is rooting for Alejandro González Iñárritu and I can see why but let's shake it up a bit and give Miller the award, Mad Max was one heck of a ride and it couldn't have come from anyone else.
Best Actor
Eddie Redmayne – The Danish Girl
Michael Fassbender – Steve Jobs
Bryan Cranston – Trumbo
Matt Damon – The Martian
Leonardo DiCaprio – The Revenant
I feel like I've already made my feelings clear about this one. Oscar wants it. I want it. Everyone wants it. Leo you beauty, you've had twenty-two years to prepare for this moment so you better have one heck of a speech lined up.
Best Actress
Brie Larson – RoomCharlotte Rampling – 45 Years
Cate Blanchett – Carol
Saoirse Ronan – Brooklyn
Jennifer Lawrence – Joy
A much stronger category than Best Actor that's for sure and none of these talented actresses are a shoe in for the win. Lawrence was the best thing about Joy but up against Larson, Rmapling, and Ronan she's got it all to do. Oscar fancies Larson and I can't see why not, she was sublime in Room. But I wouldn't be surprised if Ronan nicks it on the night. Definitely a category to look out for.
Best Supporting Actress
Jennifer Jason Leigh – The Hateful Eight
Rooney Mara – Carol
Rachel McAdams – Spotlight
Alicia Vikander – The Danish Girl
Kate Winslet – Steve Jobs
I'm a romantic and would love to see Jennifer Jason Leigh win for her incredibly hateful performance, she's been around a long time and deserves some serious recognition but if Oscar has their way then Alicia Vikander will run the show.
Best Supporting Actor
Christian Bale – The Big Short
Tom Hardy – The Revenant
Mark Ruffalo – Spotlight
Mark Rylance – Bridge of Spies
Sylvester Stallone – Creed
Arguably a stronger category than its big brother and definitely a harder one to call. Sly worked hard for his shot at the title belt and is a serious contender, I'd even say Oscar fancies him for it. But I'm going to have to go with Tom Hardy. Pushing Leo's role to the very brink in The Revenant Hardy showed us once again how versatile he can be so he get my vote. But Rylance and Ruffalo are both very strong outsiders so I'd hate to have to call this one under pressure.
Best Original Screenplay
Matt Charman, Ethan Coen, and Joel Coen – Bridge of Spies
Alex Garland – Ex Machina
Pete Docter, Meg LeFauve, Josh Cooley, Ronnie del Carmen – Inside Out
Josh Singer and Tom McCarthy – Spotlight
Jonathan Herman, Andrea Berloff, S. Leigh Savidge, Alan Wenkus – Straight Outta Compton
A right ol' mix for Original Screenplay this year, it's refreshing to say the least and any of the nominees could win in a different year. For their deft handling of a very real, troublesome scandal Josh Singer and Tom McCarthy are leading the way for Oscar. But Pete Docter et al pushed the boundaries of Pixar's storytelling with some of the most creative writing I've seen in a very long time so I'm shooting for these guys on the night.
Best Adapted Screenplay
Charles Randolph and Adam McKay – The Big Short
Nick Hornby – Brooklyn
Phyllis Nagy – Carol
Drew Goddard – The Martian
Emma Donoghue – Room
Each innovative and inspiring in their own way this one could go anywhere. Phyllis Nagy has received a lot of love and I can see why, so can Oscar. But if I was to go for the outside choice I'd send it to Randolph and McKay for thier incredibly self-aware handling of a densely poignant tale.
Best Foreign Language Film
Embrace of the Serpent (Colombia)
Mustang (France)
Son of Saul (Hungary)
Theeb (Jordan)
A War (Denmark)
I've not had the pleasure of seeing any of these so I can't give you my favourite. But I can tell you that Oscar fancies Son of Saul.
Best Documentary
Amy
Cartel Land
The Look of Silence
What Happened, Miss Simone?
Winter on Fire: Ukraine's Fight for Freedom
It appears 'Documentary' has become synonymous with hard-hitting, edgy, personal stories of loss and redemption in recent years and the 88th Academy Awards is no different. What Happened, Miss Simone?, arguably the most surprising of the bunch is available on Netflix (a rarity for a current Oscar nom) but Oscar has money on The Look of Silence while I quietly prefer Amy.
Best Animated Feature
Anomalisa
Boy and the World
Inside Out
Shaun the Sheep Movie
When Marnie Was There
The race is between Anomalisa and Inside Out for this one. Having not had the pleasure of seeing Anomalisa yet (11 March UK) I can only go by the Oscar prediction and word of mouth that it deserves to be up there. With that being said I'm rooting for Inside Out.
Best Cinematographer
Edward Lachman – Carol
Robert Richardson – The Hateful Eight
Emmanuel Lubezki – The Revenant
John Seale – Mad Max: Fury Road
Roger Deakins – Sicario
Cinematographers have slowly edged their way into the limelight in recent years thanks in part to Emmanuel Lubezki's incredible form of late and while Oscar is backing him for a third straight win I'd like Robert Richardson to win but would love to see Roger Deakins take home the gold.
Best Original Score
Thomas Newman – Bridge of Spies
Carter Burwell – Carol
Ennio Morricone – The Hateful Eight
Johann Johannson – Sicario
John Williams – Star Wars: The Force Awakens
The John Williams score for The Force Awakens hit all the right nostalgia notes and probably gets the fan's vote. But both myself and Oscar are rooting for Ennio Morricone who delivered a lesson in film composition.
Best Editing
The Big Short
Mad Max: Fury Road
The Revenant
Spotlight
Star Wars: The Force Awakens
The 'Technicals' are pretty much a two horse race between Mad Max and The Force Awakens, maybe The Revenant if you feel inclined to make it a round top three. For editing though Oscar loves a bit of Mad Max but I can see The Force Awakens surprising a few here.
Sound Editing
Mad Max: Fury Road
The Martian
The Revenant
Sicario
Star Wars: The Force Awakens
Again my money is on The Force Awakens but Sicario and The Martian might have other ideas. Oscar has a thing for Mad Max.
Visual Effects
Ex Machina
Mad Max: Fury Road
The Martian
The Revenant
Star Wars: The Force Awakens
Star Wars: The Force Awakens looks incredible and there are a few stand out shots that steal the show for me. Oscar likes the looks of Ex Machina for the Vikander rendering onto sentient AI but we'll see.
Production Design
Bridge of Spies
The Danish Girl
Mad Max: Fury Road
The Martian
The Revenant
The Martian has a great chance to pick up an award here. The dusty confines of the Red Planet have never felt so tangible. That being said I have a feeling Oscar might have called it with Mad Max.
Costume Design
Carol
Cinderella
The Danish Girl
Mad Max: Fury Road
The Revenant
To put it simply Mad Max has every right to win this one and both myself and Oscar can see it going just that way. No drama.
——
That does it for this year. Oscar has had their say, I've had mine but what about the categories that I missed out? Well, I just haven't seen enough to warrant an opinion but I've given you my thoughts on the big guns. Let me know what you think in the comments. I love a good Oscars debate.
~ #OscarsSoWhite? Go get 'em Rock ~